#1 Jordin Sparks - Another phenomenal performance and I finally move her up to #1. It's fun to see how much she has blossomed this year. I have had her in my top-four all season, but it's time to face reality: No matter how technically brilliant Melinda is, she is a niche performer with little cross-over appeal (More on that below). Jordin is the perfect American Idol and is by far the most marketable performer. Oh, and she was freaking incredible last night.
#2 Melinda Doolittle - Not to take anything away from Mindy-do. She is the most polished, technically sound, talented performer at this stage in the competition that Idol has probably ever seen. But is she a good American Idol? Here's how I look at it: Who are the most successful of the past American Idols? I would say Kelly Clarkson and Carrie Underwood. Who are the least commercially successful? Ruben and Fantasia. Why? Cross-Market appeal. Both Ruben and Fantasia are limited Genre performers. They just aren't going to have a big hit that will rise to #1 on the R&B, Gospel AND Pop charts. Kelly and Carrie can have the same song on the pop charts, the rock charts (Kelly) the Gospel and Country Charts (Carrie) at the same time. It's all about that cross-over marketability. Doolittle, I believe, will fall into that later category, where she is HUGE on the R&B chart, or the gospel chart, but struggles to maintain pop success. A long justification for bumping her to #2, but it was needed, especially after she sang such a big powerful God-Lovin' Faith Hill song last night, that I totally loved.


#3 Blake Lewis - The only one with any true upset potential (because Lakisha has been fading so fast) left in the competition. I respect the guy for going with one of my all-time favoritist songs (Lennon's Imagine), but there is just something a little wierd and a little off when he just sits and sings a straight slow ballad and actually just sings. I can't even put my finger on it, it's just....wierd. I dunno. We haven't had any beatboxing in a while, either. At first I was afraid (i was petrified) that he would over-kill it, now I think he's been underutilizing an entertaining aspect of his performance repertoire.


#4 Lakisha - Did she really cover past American Idol winners two weeks in a row? Obviously, the single baby-mama is an inspiration to her, but really? A Fantasia song on a night like Idol-Gives-Back? Really?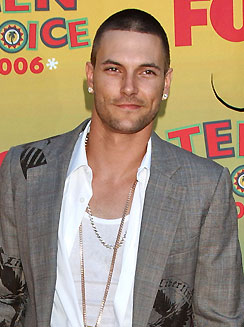 #5 Chris Richardson - I will shoot myself in the head before I put him higher than the four above, but the dude had a GREAT performance last night. Great song for the night, great performance. Great voice. I have nothing to criticize about the performance.
#6 Phil Stacey - Dude butchered a GREAT Garth Brooks song. I thought he would do a solid country ballad a little justice, but, NOPE. It was wretched. Time for the Weekly World News' Bat-Boy to take a hike!